UNT alumni draw national attention with strong first showing at The Basketball Tournament
Bleed Green, a team of University of North Texas basketball alumni recently made their debut competing in The Basketball Tournament, a single-elimination tournament played each summer. A total of 64 teams, which included more than 70 former NBA players, competed for $1,000,000 in prize money.
The team of past and present Mean Green basketball players brought their best to the court, winning their first two games. Their third game was a close call, narrowly losing 70-69 to the team called Aftershock.
Bleed Green's impressive inaugural effort in The Basketball Tournament already secured the team a spot on next year's roster.
The task of organizing the team was spearheaded by UNT alumni J.J. Murray ('21) and D.J. Draper ('19, '20 M.B.A.). Murray had expressed interest in TBT a couple years ago, but with him and Draper both being students and actively playing for UNT at the time, it couldn't work.
But this past spring, everything began falling into place.
"As soon as [Murray] graduated this year, he reached out to me and just said, 'hey, I think this is a good time to put a team together because we've got some momentum,'" Draper says.
Murray, who is working toward an M.B.A. in Supply Chain Management in UNT's G. Brint Ryan College of Business, said he wanted to build a competitive TBT team to increase the sense of national pride in UNT.
"We just appreciate the experience we had at UNT and we feel indebted to the university," Murray says. "We have a pride that we feel is undervalued and underappreciated on a national level and we think that this opportunity, and knowing the caliber of schools in this tournament, we feel like our university should be seen in that same light."
Murray and Draper's love for the university was their primary motivation for organizing the team.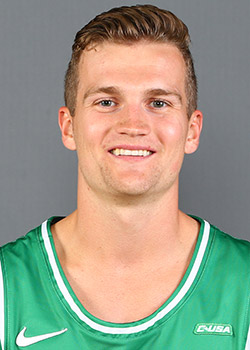 "We both have full-time jobs, so this is literally all out of our passion for the university and our experience," Draper says. "We've spent a lot of time, and it's been a lot of phone calls, texts, meetings and just trying to figure out how to put together the best team we can."
Their hard work paid off, bringing UNT, along with its skilled and talented alumni, to national attention. The team, with some new and returning members, will attempt to bring home the top prize again next year.
"J.J. and I are incredibly thankful to all those who supported us during this journey," Draper says. "We had a goal to shine a positive light on the UNT men's basketball program, and we did that. We advanced to the 'Sweet Sixteen' of a very competitive tournament."
Draper reflected on some particular highlights from the tournament experience, and his hopes for the future.
"Playing on ESPN 2 with the ability to showcase our great basketball program, our alumni and our coaching staff on national television is something we hope ignites even more momentum for the university," he says.
Murray expressed gratitude for all those who helped make this unique opportunity become a reality.
"We are both really grateful for first, the athletic department and coaches approving of our efforts to pursue this opportunity," Murray says. "Next, to David Anderson ('99), who was integral to our team operations, while also rallying our proud alumni and UNT supporters to help organize the capital required. Lastly, a huge thanks to all the fans who love the university and bleed green!"
Main image credit: Miles Meador.
Published Date:
August 21, 2022