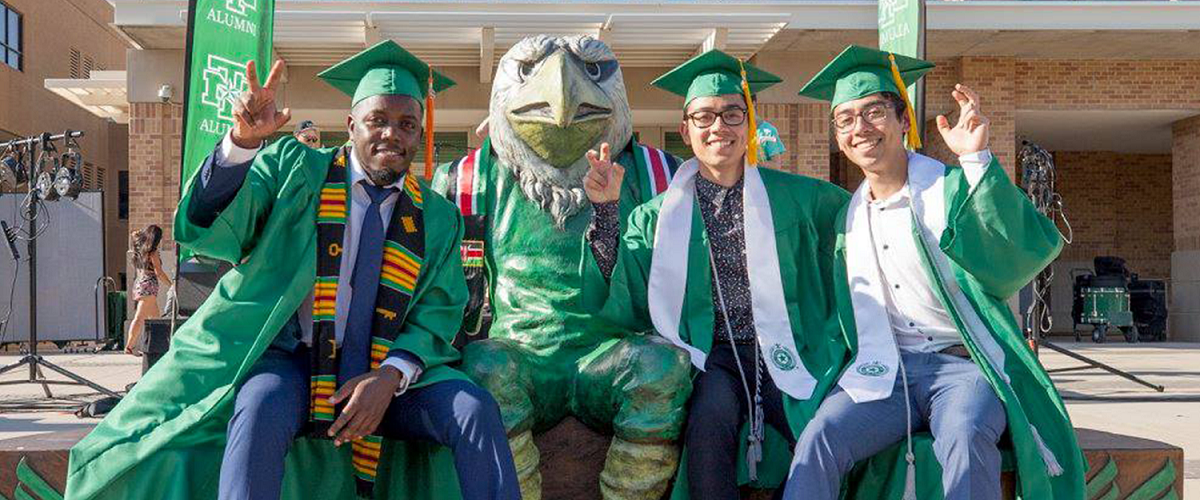 UNT Alumni Association Scholarship Program
Each year the UNT Alumni Association awards deserving students scholarship support through contributions made by generous alumni. Scholarship amounts vary each semester.
Applications for the 2024-25 school year will open November 15, 2023. The scholarship application deadline is February 15, 2024.
Scholarship Eligibility Requirements
Awardees for all UNT Alumni Association scholarships must meet the minimum entrance and continuing academic performance standards of the scholarship committee in effect at the time of any award.
Applicants must maintain full-time enrollment in an applicable degree-granting program at the university, unless they have fewer than twice the number of semester hours required to be a full-time student remaining in their degree program.
Scholarship awardees must maintain a 3.0 GPA during all semesters during which they are receiving the scholarship. Students unable to meet enrollment requirements due to mitigating circumstances should reach out to the UNT Alumni Association to request a scholarship appeal.
Completed scholarship appeals will be reviewed by a scholarship committee, and notification regarding the appeal outcome will be provided through the student's assigned UNT EagleConnect email address.
All UNT Alumni Association scholarships may continue to be awarded to previous recipients on an annual basis in successive years if the recipient continues to meet the eligibility requirements outlined.
Many UNT Alumni Association scholarships have specific criteria for award eligibility. Please visit the scholarship application portal to learn more.
The Collin County Alumni Chapter Endowed Scholarship
The Denton Chapter of the University of North Texas Alumni Association Endowed Scholarship
The Denton County Alumni Chapter Endowed Scholarship
The UNT Alumni Association Gulf Coast Scholarship
The UNT Alumni Association Board of Directors Scholarship
The UNT Alumni Association Legacy Scholarship
The UNT Black Alumni Network (BAN) Endowed Scholarship
The Latinx Alumni Network (LAN) Student Emergency Fund (Go to Application Page)
The Jostens UNT Alumni Scholarship
The Lisa and Charlie Smith Scholarship
The Jerome M. "Bruzzy" Westheimer, Jr. Endowed Alumni Scholarship
The Westurn Family Scholarship
Make a gift to help provide a transformative education for a UNT student.