A Message from Kevin Fralicks ('84, '87)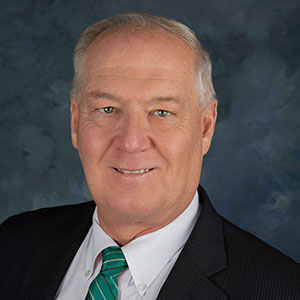 It has been an honor to serve my alma mater in this role since Fall 2021, and I want to keep members and UNT alumni informed about the plans we have put in place during the last year.
First, I would like to extend my gratitude to all our members and volunteers — you are the heart of the UNT Alumni Association. We know it's important to grow membership numbers if we are going to be a sustainable and successful organization. Our staff and volunteer leaders are working hard to analyze the association's brand and values that will guide us moving forward.
Our team is also taking steps to create a campus destination for alumni. We have set aside funds to renovate our current space in the Gateway Center into a true Alumni Center, and we hope you will visit us when it's complete! The UNT Alumni Association should have a strong presence on campus — we are excited to create a gathering place for our alumni.
The association is in the process of evaluating staffing needs to help us better serve members and grow regional and affinity programming. The goal is to have a larger presence in key areas like DFW, Austin, Houston, San Antonio and Waco, as well as grow existing affinity groups and create more to better serve our diverse alumni population.
Thank you for choosing to stay connected to your university and for celebrating your Mean Green pride as a member of the UNT Alumni Association. If you're not a member, consider joining today. We'd love to have you help us build a proud alumni legacy at the University of North Texas.
Go Mean Green!
Kevin Fralicks ('84, '87)
Published Date:
August 23, 2022