Quincy Noble spreads her Dallas Wings
Recent University of North Texas alumna Quincy Noble ('22) is known for her skills on the basketball court and for her work as a sports and news reporter with NTTV.
She is also adamant on increasing recognition and support for women's sports. And through her recent internship with the Dallas Wings, a team ranked third in the WNBA, she gets to do just that.
This spring, Noble was seeking an internship related to her field of study, converged broadcast media, and hoped to find one that also incorporated one of her primary passions, basketball. Kasey Kamenicky ('04), director of regional alumni programming for the UNT Alumni Association, jumped at the chance to assist Noble's search.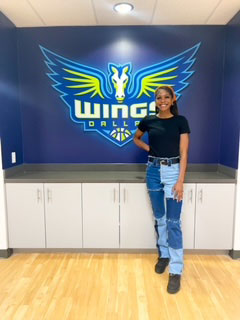 "[Kamenicky] invited me to an alumni event and I was able to kind of meet a lot of people and talk to a bunch of different alumni about the broadcasting world and the media industry and get some more insight," Noble says. "She sent my resume around and it just went from one person to another and eventually got sent to the Dallas Wings."
Kamenicky also enlisted the help of George Esquivel ('91), a UNT Alumni Association board member, who immediately put her in contact with Terri Acosta ('99, '01 M.S.), head athletic trainer for the WNBA team New York Liberty. Acosta, impressed by Noble's resume, connected her with a trainer for the Dallas Wings.
Noble says she was surprised by the immediate willingness of the UNT alumni network to support her.
"They had no problem sending my resume around and supporting me," she says. "Our alumni are such great people. "
After everything fell into place, Noble began her summer internship on May 2.
"I am a social and digital content intern, so I edit highlights and post them on Twitter, Instagram and I make TikToks," she says. "I've been having an amazing time learning everything and just taking my experiences and utilizing my skills."
Landing the internship with the Wings is yet another example of Noble's hard work and talent, combined with strong support from the vast network of fellow Eagles in the UNT Alumni Association, paying off.
The California native initially moved to Texas in middle school, without a history of playing any sports. Her father had coached boys' basketball back in California, so she grew up around athletics and it seemed only natural she would eventually show interest.
"I really gravitated toward basketball because of my dad," Noble says. "He was really well-rounded as a coach, so he kind of built it around me out here and made a girls' team and it took off from there and grew every year."
During her high school basketball career, Noble made a name for herself, scoring 1,000 points by her sophomore year and surpassing 2,000 points during her senior year.
After high school, Noble first attended and played for the University of New Mexico for a year before transferring to UNT.
"It's very important to me to have a support system to help me grow," Noble says. "I think that's why I came home. My family is here, my people are here. I have so much support from different angles and I felt like I didn't understand that I needed it until transferring."
With her internship in full swing, Noble is set for not only an eventful next couple of months, but an eventful next few years.
"This fall I'm going to be pursuing an interdisciplinary master's, so I'm going to go in and study educational psychology and the second concentration is probably going to be rehabilitation studies or recreational educational sports management," Noble says.
Because Noble red-shirted her first year at North Texas, and due to the COVID-19 pandemic, she has two more years of eligibility, and plans to continue playing as a guard while in graduate school.
While her greatest career goal is to become an ESPN sports commentator, Noble says she is taking everything one step at a time.
"I've learned so much already at my internship, so if this leads to something else, that would be a dream come true," she says. "Every opportunity matters."
Published Date:
August 10, 2022