Dinner With a Dozen
Currently enrolled students are invited to join UNT alumni for Dinner with a Dozen — a networking event designed to introduce students to successful alumni from various industries. Attendees will be able to sit at a table with alumni and enjoy career advice and conversation during dinner.
Dinner with a Dozen is free to attend, but there is limited capacity. You must be a member of the Student Alumni Association (SAA) to apply for this event. Members of the Student Alumni Association (SAA) will be guaranteed a seat.
Not a member of SAA? Find out more and join!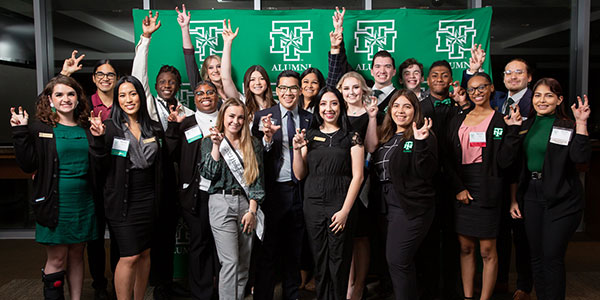 UNT Ring Ceremony and Eagle Ring Dive
The UNT Ring Ceremony and Eagle Ring Dive are meaningful milestones for students and their families.
Each fall and spring semester, Eagles gather on the UNT Library Mall to receive their rings from a special guest they've invited to participate in the ceremony. Then ring recipients dunk their rings in the fountains, symbolically immersing them in the spirit and traditions of UNT.
The ceremony is an invitation-only event for students and alumni who have purchased official Jostens rings by the semester's order deadline.
Learn more about the December 2, 2022, Ring Ceremony.