A Message from Kevin Fralicks – January 2023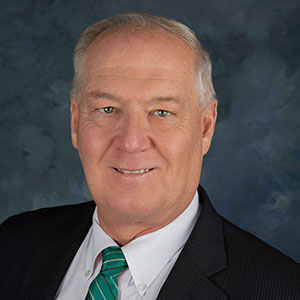 It is truly an honor to serve you as the leader of the UNT Alumni Association, a powerful community of UNT alumni and friends of which I am proud to be a lifetime member. If you attended Mean Green Fan Fest, our 2022 Bowl Game events, you know that North Texas spirit is alive and well with our alumni — and with new head football coach Eric Morris and Jared Mosley, UNT vice president and director of athletics, who both gave a fan update as part of our celebration.
Our organization has had a noteworthy year. In collaboration with our board of directors and alumni volunteers, we developed a new mission, vision and values that are representative of who we are now and what we want for the future of the UNT Alumni Association. These are more than just words — they are our guiding principles, and it's my pleasure to share them with you.
Mission
Our mission is to foster a lifelong spirit of belonging and pride by connecting alumni and friends to the University of North Texas and each other.
Vision
We strive for profound engagement with a community committed to supporting and advancing UNT's excellence.
Values
We share a proud legacy.
We welcome everyone.
We create lifelong relationships.
We make a difference.
We are here to help you stay connected to your university, create a meaningful network of alumni and have some fun together! I'm excited that, in the future, more of these special moments will happen in our Alumni Center, which is currently undergoing renovations. We look forward to welcoming you to campus in this space in the fall of 2023.
While we work on updating inside, there are also some exciting changes happening outside the Alumni Center. In partnership with Jostens and as part of a new 10-year contract, we plan to construct a large-scale statue of the official UNT ring on campus. Pending university approval, this proud symbol of our Mean Green spirit will be situated just off North Texas Boulevard, right in front of the Gateway Center. We're thrilled to be creating a place where our students and alumni can make memories and take photographs that will last a lifetime.
Thank you for staying engaged and supporting our students and one another. You are the heart of the UNT Alumni Association, and we're grateful to have you in our community. Forever North Texas!
Kevin Fralicks ('84, '87)
Associate Vice President of Alumni Relations and Advancement Communications
Executive Director of the UNT Alumni Association
Published Date:
January 12, 2023