Alan Chamberlain's seven-story Porsche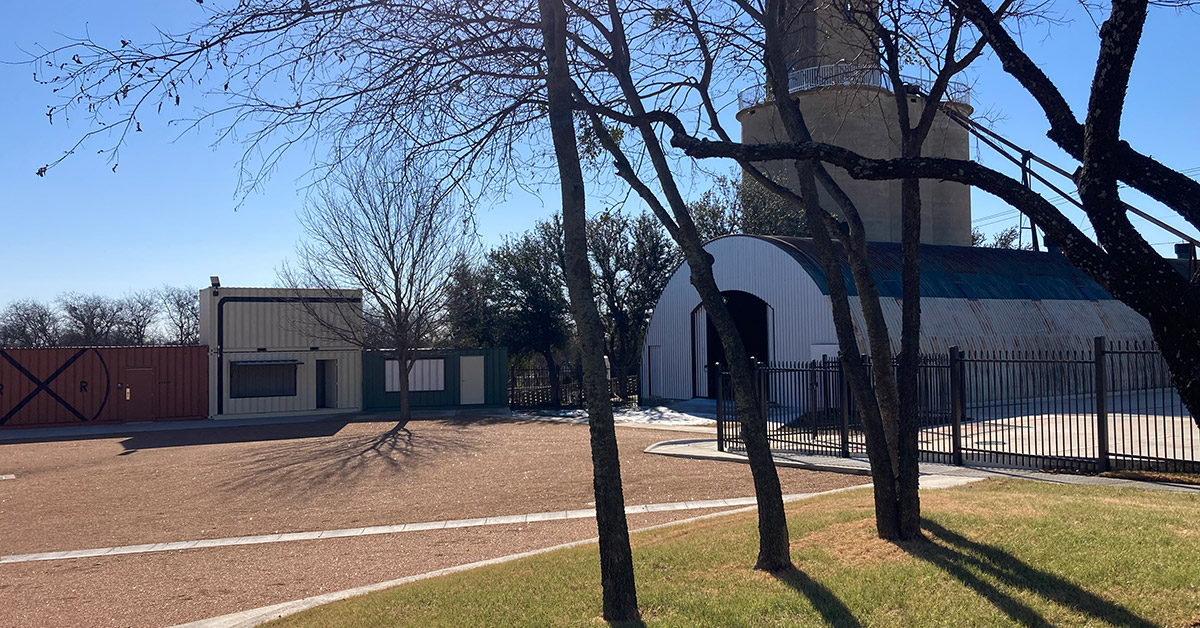 Everything is a circle
Alan Chamberlain ('82, '94 M.B.A.) always wanted a Porsche 911. He doesn't have one yet, but he does have a 95-year-old grain silo next to the train tracks in the heart of Krum, Texas.
The work of two previous owners attempting to convert the silo into a residence led the property to look how it did when Chamberlain first laid eyes on it.
Everything in the silo is a circle, begging your eyes to follow the walls around and around. And up and up. The windows give you a sneak peek out at the wide-open space where on Friday nights, locals congregate to enjoy live music and fresh food at 50 West, a new multi-purpose venue located at 50 West McCart Street in Krum.
"I walked in here thinking I was going to see a silo, and what I saw was three decades of crazy," Chamberlain says. "And I feel creative again. And for a male, to be able to feel creative again when you've been in this rut for 40 years and you do one thing and now, you're just getting all these new ideas? It just blew my mind. I had never been in a building like it my whole life."
While most who visit 50 West will not make it to this under construction, behind closed-doors area where Chamberlain offices, the silo is a space that has been integral to the creative processes of Chamberlain and his business partner, Jon Seibert.
50 West soft-launched in March 2022 as a space where people can come together to celebrate music, food and community history. Renovated from what was once known as the R.L. Cole Grain Elevator, the venue serves as a reminder of Krum's rich past. According to the Krum Society of Historic Preservation, the city was once known as "the inland port shipping the most wheat in the United States."
Chamberlain bought the property in 2015, with no idea what it would turn into just a few years down the road. As time went on, Chamberlain realized the space could be much more than what he had initially envisioned.
Chamberlain enlisted Seibert, an architect and friend who also attended UNT in the 1980s, to draft a rendering of exactly what Chamberlain envisioned. Seibert then reviewed it, and after much thought and research, threw the draft away. Seibert subsequently drafted his own plans.
"I'm so glad he did that, because his were much better," Chamberlain says. "Ninety-five percent of what you see here is from [Seibert's] head. He is such a gifted contractor."
With the new plan in place, the duo transformed the silo property and surrounding lots into a what is already becoming a community hot spot. The expansive gravel area for visitors to gather in is bordered by 13 containers, out of which eight are currently in use as food trucks, restrooms and merchandise storage. Chamberlain says there is enough space for six total food trucks.
The center stage containers, from which the weekly musical guests play, proudly display the 50 West logo in a deep blue painting of the state of Texas. Rising above everything else, the seven-story grain silo further propels the allure of 50 West.
For Chamberlain, 50 West is the culmination of a life of hard work and dedication to his roofing craft, faith and wanting to serve the community.
"This is a stewardship thing," Chamberlain says. "When you start out with a hundred-year-old building, attached to a 60-plus-year-old building that's just part of this town's history, you can't turn that into storage."
Humble beginnings and community roots
Chamberlain, the middle of five children, moved with his family to Denton after his father, a minister, took on a church in south Denton.
He learned the roofing trade in Oklahoma, working while he was a student at Bethany Nazarene College, now Southern Nazarene University. After two years there, he decided to return home and enrolled at then-North Texas State University. A friend of his transferred to North Texas at the same time and, both of them having histories in roofing, they decided they would never roof again. However, after several attempts to find other work that paid well fell through, the two jointly picked up the trade again.
Denton Trinity Roofing was launched in 1980 while Chamberlain was enrolled at North Texas. He completed his undergraduate degree in December 1982.
Chamberlain married his wife, Linda, in 1985, and she began working at Denton Trinity Roofing, answering phones, computerizing the office and paying bills on time. In 1990, Chamberlain and his then-business partner were coincidentally each expecting their first child. Thinking that the business would not be able to support both growing families, the partners looked for other jobs and agreed that whoever found a new one first could leave and the other would continue to run Denton Trinity Roofing.
With some reluctance, Chamberlain became that sole owner. A child on the way and a business to run all on his own, Chamberlain realized there was an additional challenge he wanted to tackle: another degree.
"I started talking like a roofer, and I started thinking like a roofer," Chamberlain says. "And that's not a positive thing. And I just thought, 'I need more in my life.'"
After talking to his wife about the prospect of going back to school while their family and business expanded, he made the decision to embark on his M.B.A. journey at UNT, completing his graduate degree over the course of four-and-a-half years.
"I knew that it was going to be a marathon, and my wife supported me in it and I had to have that," Chamberlain says. "Back then, you knew how to schedule your day and you knew how to schedule your night, and I knew what I was going to be doing on weekends. I was going to be writing papers. And at night I was going to be studying for tests."
Chamberlain says the UNT M.B.A. program "truly helped" him to better understand how to conduct, manage and expand his business.
"Business, to me, is a language," Chamberlain says. "And the better you can speak that language, and the better you understand the custom and the culture of business, the better you're going to do."
Chamberlain praises the professors whose classes he learned from and enjoyed the most during his times as a student.
"They were fantastic, very impressive," he says. "I couldn't have been happier with my M.B.A. experience, and it was tough. But there were excellent teachers who contributed to my success as a businessman."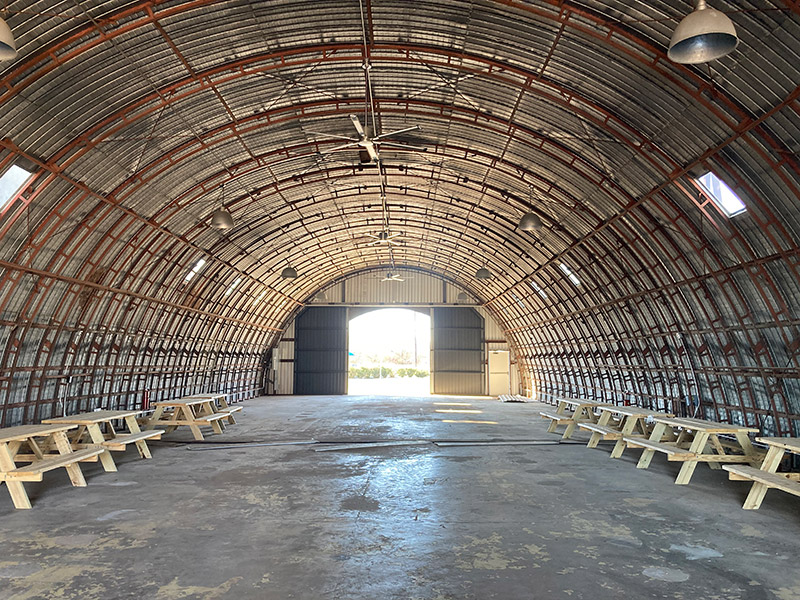 What's next for 50 West
Chamberlain continues to run Denton Trinity Roofing alongside his work renovating and operating 50 West. More of his time will be spent at 50 West as the venue expands from operating solely on Friday nights to operating six days a week beginning this summer.
"Krum has been very good to us," Chamberlain says. "It's been sweet. As the summer progresses, I think we're going to pick up some speed, so we're having fun. We're happy."
The menu options are set to expand in the near future with the addition of two eateries, one operated by the owner of Denton's The Loophole and another by the owner of Denton Independent Hamburger Company, both currently in development. The new restaurant operations are in development in two buildings just outside the 50 West gated arena.
Additionally, the historic on-site Quonset Hut, a 40-foot-wide and 120-foot-long metal structure shaped like a half-circle and rising 20 feet in the air, will soon be available to book for events and can also serve as a dance hall. Chamberlain describes it as having the "most exciting potential," as it can fit about 400 people inside—about the same number of folks the outdoor concert area can hold.
Looking ahead, Chamberlain says he has high hopes for the impact 50 West will have on the Krum community.
"I'm very proud of what I think this is going to become," Chamberlain says. "I have my happy place. I don't need my Porsche 911 anymore. I have my silo."
Published Date:
May 31, 2022