UNT Class of 2022 Ring Award recipient reflects on student experience, looks ahead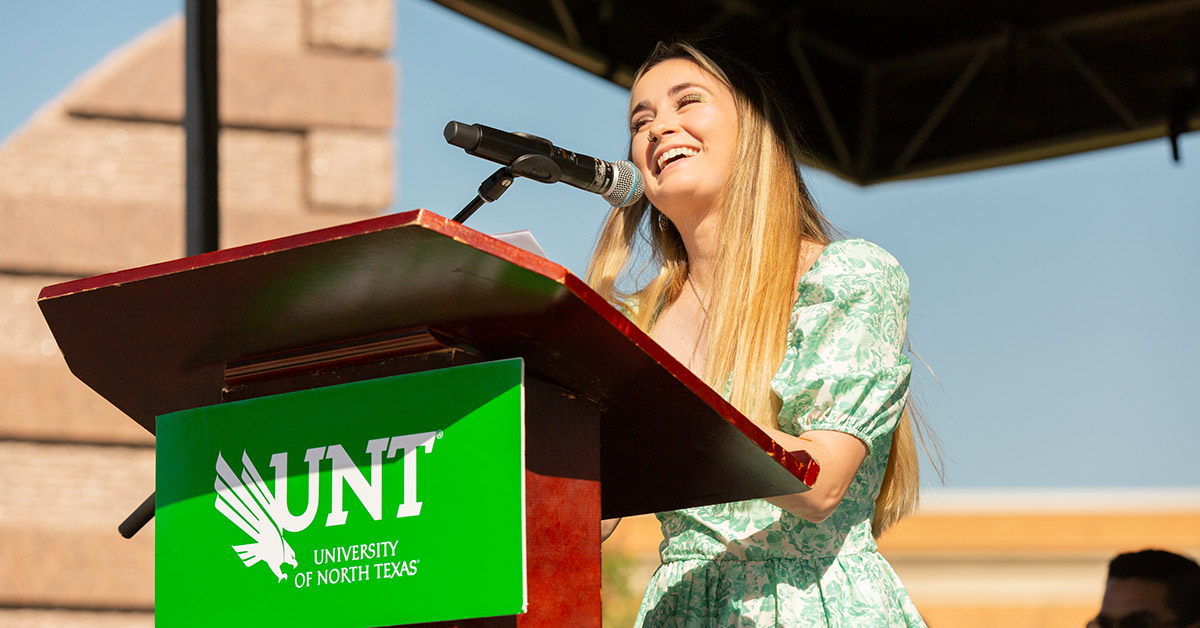 The stage is set, facing a sea of white chairs that are filled by families and friends adorned in varying shades of green and all present to celebrate the accomplishments of University of North Texas students. The verdant atmosphere is aided by the vibrant trees and pristine campus landscape. The sun shines down brightly as there isn't a cloud in sight — except for the one on stage.
Alyssa Clowdus ('22), known by many as just "Clouds," is about to address her fellow students at the UNT Ring Dive Ceremony on the first Friday in May. Clowdus has a long list of accomplishments from her four-year stay at UNT, and on this day, she adds ring award recipient to that list.
Every year, the UNT Student Alumni Association selects a student who embodies the spirit and traditions of the university and has made a positive impact on the campus community to receive a complimentary UNT ring.
"It kind of feels like a dream," Clowdus says. "Just being so involved and active, and now having all these titles and getting these awards, it's just like, 'Me? Are you sure?'"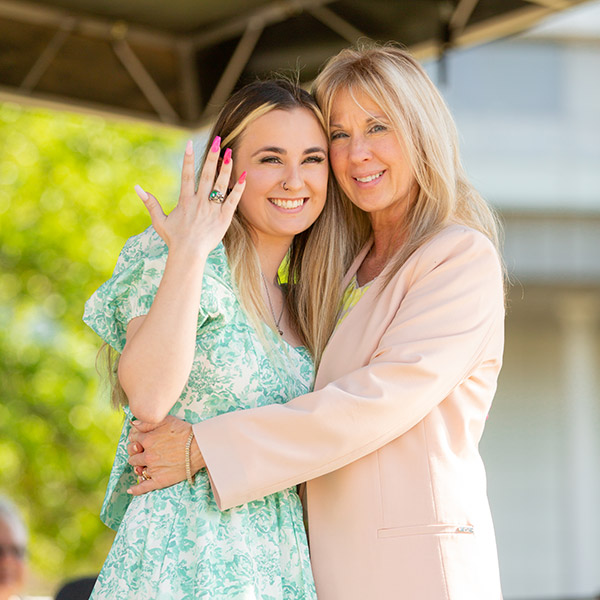 Ahead of the ring ceremony, recipients select a special guest to present their ring to them. Clowdus, who is graduating with a bachelor's degree in human development and family sciences with an emphasis in family and community, selected her mother as the special guest who will present her UNT ring.
"My mom has always been like, 'education, education, education!'" Clowdus says. "She's been super adamant and always supportive of my achievements and my awards. I showed her all the stoles and cords I have for graduation and I was like, 'I look like a giant rainbow vomited on me,' and she was like, 'But you're going to wear all of them!' She's very proud."
Clowdus came to UNT as a music education major, but quickly realized her career interests lay elsewhere, she just wasn't sure where. A close friend of hers was studying human development and family sciences and suggested that Clowdus might enjoy it as well.
"I changed my major and started taking classes and actually fell in love with it," Clowdus says. "I thought, 'this is absolutely something I want to keep doing.'"
Her involvement with music did not stop because of her change in majors, as she continued to play the saxophone in the UNT Green Brigade Marching Band.
"I started Green Brigade and I literally made the best of friends," Clowdus says. "I did not think I was going to jump into college and love this place and want to stay here. I'm still friends with almost everyone I became friends with freshman year. Green Brigade just gave me the family I was looking for and it exceeded my expectations entirely."
While Green Brigade and course work might be enough to handle for a lot of folks, Clowdus couldn't help but take on more. She has also worked as an Eagle Ambassador, an Orientation Leader and as social head of Sigma Alpha Iota. She is also a member of Delight Ministries and the organization It's On Us.
In Fall 2021, Clowdus was named Homecoming Royalty, one of the highest recognitions a student can achieve, and received $1,000 to put toward her Campus Impact Project. Clowdus' cause of choice was the UNT Survivor Advocate Office, to which she donated $900. She used the remaining $100 to place yard signs around campus to increase awareness about sexual or relational violence, trauma and harassment.
Next up, Clowdus is headed to Texas Tech University to pursue a master's degree in retail and hospitality management.
"It's nothing like human development and family sciences," Clowdus says. "The only similarity they have is consumer behavior and seeing how people react to certain things. I want to focus on hospitality and retail management toward marketing consumer behavior within the alcohol industry. I want to get my Ph.D. and become a professor and do research. That's the goal."
Clowdus says everyone in her immediate family has a degree from Texas Tech, so now it is her time follow that tradition. As for her doctoral ambitions, Clowdus says intends to complete her "Texas World Tour" by earning her Ph.D. at the University of Texas at Austin.
While she is excited for the journey ahead, Clowdus says she is not quite ready to say goodbye to her Mean Green community, specifically her Green Brigade family.
"Being a section leader in Green Brigade and having so many individuals that I tried to make successful and make sure they were all ok throughout their college experience and building those connections was definitely my favorite part," Clowdus says. "I love Green Brigade, I love my friends and being so close-knit. It's the connections that are my favorite part."
Published Date:
May 25, 2022