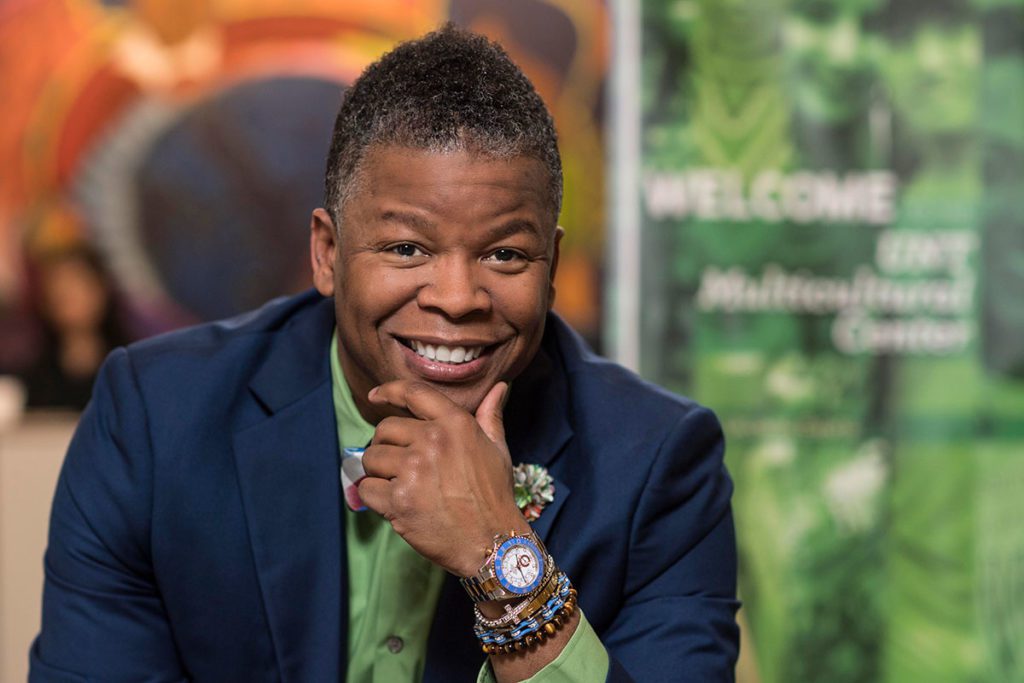 Co-founder, UNT Multicultural Center & a Few Good Men Program
Elliotte Dunlap ('97), recipient of the 2017 UNT Outstanding Alumni Service Award, sits on the UNT Alumni Association Board of Directors and is a co-founder of both the university's Multicultural Center and the A Few Good Men program.
Now the Chief Channel Officer for Financial Service Industry Capital Markets for Microsoft and a recipient of the Circle of Excellence Platinum Award by Microsoft and IBM, Dunlap has a distinguished record of accomplishments as a respected industry professional. He is a 2019 alumnus of the Dallas Regional Chamber of Commerce Leadership Executive Program and currently serves on the chamber's Leadership Program Board. In 2020, Dunlap was featured on WFAA's While I Have Your Attention series and on an Alumni Spotlight episode of the OLLI at UNT Podcast.
Dunlap is all about #IntentionalExcellence — that's what he stands for, what he teaches his mentees and what he brings to his alma mater.
What brought you to the University of North Texas?
I had somewhat of an understanding that my dad, Leonard Dunlap, went to college at a place called North Texas State — he is in the North Texas Athletics Hall of Fame and was one of only three first-round NFL draft picks out of the university. But that's not what brought me to UNT.
When I was in high school, I visited the counselor and he asked me what college I was going to go to. Well, I had no idea! The counselor had a bookcase with all kinds of college books on it — and the UNT book was horizontal, while all of the other books were vertical. So, the North Texas book was the easiest one to pull out. Plus, green was my favorite color and my high school was also the Eagles. That's the way I chose UNT!
When I went home and told my dad I was going to apply to the University of North Texas in Denton he said, "Son, that's the same college I went to." Can you believe it hadn't occurred to me that North Texas State and UNT were the same place?
How is it that you came to co-found UNT's Multicultural Center?
Thinking about race, religion and gender, sometimes students and faculty need to have a place to go where they won't be all by themselves. My co-founders Collette Nero ('95), Ray Mbala ('95), James Guillory ('13) and I wanted to create that space. We wanted to help UNT have a growth-mindset.
Getting things started with a process and a struggle. After many marches, we were able to get an audience with Chancellor Hurley, who was flexible in thinking about the bigger picture. He realized the need for this, and he gave us two storage closets on the fourth floor of the Union. They were tiny rooms filled with mops, brooms, extra tables and chairs — but they remodeled the space. It was a start, and look at the Multicultural Center now. It was exciting to build something that has come to be such an important part of the university for so many people.
Are there any experiences from your time at UNT that stand out in your memory?
I have so many great memories — marching for important causes, having a relationship with senior administrators and being part of Kappa Alpha Psi Fraternity Inc. are at the top. Plus, I hosted a TV show at UNT called Just Lounging, a hip-hop video show that also discussed campus events and U.S. news. It was the first of its kind on NTTV — produced and managed by and starring African-American students.
UNT was just the perfect place for me. It wasn't so far away from a major city, but it was tucked in its own little country town. Being so close to Dallas, where I live now, really helped me build my network, which increased my net worth.
You've had such an impressive life and career. Are there specific ways that your UNT education set you up for success?
The best lesson I learned out of UNT was realizing the value of awareness versus execution. We did a lot of marches on campus — and I still think that's important, because marches bring awareness to the cause.
But what I learned was that I also had to take off those shorts and those tennis shoes, and I had to put on a suit and walk upstairs to the board room. I had to formulate the execution. You have to be buttoned up. You have to have your grades right. You have to have your brand right. You have to be able to speak clearly. You have to be credible. It's not just about walking up the steps — it's about having the proper preparation.
It seems like you're really paying some of those lessons forward through the A Few Good Men program. Could you speak a bit about that?
A Few Good Men was co-founded in 2016 by Shondrick Hill — whose daughter graduated from UNT — alumnus Andre Lewis ('94) and myself. It's a mentorship group that deals with the allostatic load that African-American men carry every day and helps young men convert thought processes and competencies. We're looking to help them transition from college to getting internships to being offered careers with major companies in various industries.
I'm proud to say that many of our students have jobs going into their senior year because of partnerships Shondrick, Andre and I have built through our personal achievements and networks. It's a grassroots effort with a number of mentors doing great work. And the most beautiful thing about the program is that we have young men who have graduated coming back to help others.
We're so grateful to Joanne Woodard, vice president for institutional equity and diversity, and her division for sponsoring and being behind us in our efforts.
You've given in support of the UNT Black Alumni Network (BAN) Endowed Scholarship. What prompted you to make that gift, and what kind of an impact do you hope it will have?
Angie-Ransome Jones ('91) and her team did a great job creating this scholarship. I give back to the university as a member of the UNT Alumni Association Board of Directors, and I really feel good about giving to our African-American and diverse students. I think it's an awesome scholarship, and I'm at a point in my life where I realize that some people may need a little help or a push forward.
When people think of giving to an African-American cause, they think of the NAACP or the United Negro College Fund. But what they fail to realize is that there are local entities and small charities that need their help. It's great that people want to do something for the African-American community, but I think there's a huge disconnect. If you want to give back, why wouldn't you give to a scholarship or program in your local community, church or college?
That's the way that I look at those things. I want to get the BAN scholarship out in front of people, because I know people want to support our students at UNT. And that's why I made my donation — because before you talk about it, you've got to be about it.
It's clear that you're engaged as a UNT alumnus in very specific ways. Why do you choose to stay connected to the university?
Because the university gave me an opportunity that I don't think I would have had at any other place. It really is something to be in the right place at the right time.
The first time I took the SAT, I just marked answers and got out of there. I wasn't taking it seriously. Well, I did terribly and UNT denied my admission. But there was a special program at UNT at that time — they sent me a letter that said they didn't understand how I graduated in the top 5% of my class and scored so low on the SAT. They invited me to come in on a Sunday for a board room interview, and based upon my results, I was admitted to UNT one week before the dorms opened for the fall semester.
It changed the trajectory of my future and set me on course for who, what and how I am today. I know that the university gave me an opportunity that I could have missed for being silly, young and naïve. Now, I did take the SAT again that September and scored over 1100. [Elliot chuckles.] I figured out how important it was.
Can you offer some words of encouragement for fellow UNT alumni who might be looking for ways to connect to their alma mater?
I think we need to get involved. And getting involved does not mean you have to roll up your sleeves, get to campus and work. Getting involved could be joining the the UNT Alumni Association or reading the North Texan and understanding what's going on and being able to communicate that to your network. Getting involved could be something as simple as, when someone's talking about their college, you hold up a UNT coffee mug. I don't think we do a lot of that. I think people use the excuse of not living close enough or not being able to drive up to Denton. But in this virtual world, even using a UNT digital wallpaper speaks volumes.
There's a lot of ways to give back and get involved. We really need everybody to think about how they can pay it forward and help our university continue to be excellent.
So many were inspired by your feature on WFAA's "While I Have Your Attention" series. Do you have any words of wisdom to share directly to UNT alumni?
First of all, we have to defeat present-day ignorance. I don't mean ignorance in a negative way — I mean having misinformation or lacking awareness and knowledge. To get rid of ignorance, we all have to become and stay curious learners. And here's how I think we do that: establish a personal board of directors, speak the rule of three and always be aware of the human element.
What do I mean by that? Everyone should have guidance from people they can trust to have safe discussions that may be controversial. And you should always take in three points-of-view, including one from a source that you vehemently disagree with. This will give you a broader perspective on whether you should think through your conviction or stay steadfast. As for being aware of the human element, well we all need to have empathy and understanding for our fellow humans. We need to realize we all have different advantages and disadvantages.
When I look at our current events, I have to look in the mirror at myself and ask, "what could I have done differently?" And one of the things I have discovered is that I need to get involved locally — from my homeowner's association, to city council, to area representatives and my alma mater. I need to be aware of what's going on and who is speaking for me — because the laws, the system and the people are changed at a local level.
Published Date:
October 17, 2021