UNT Alumni Night at Austin FC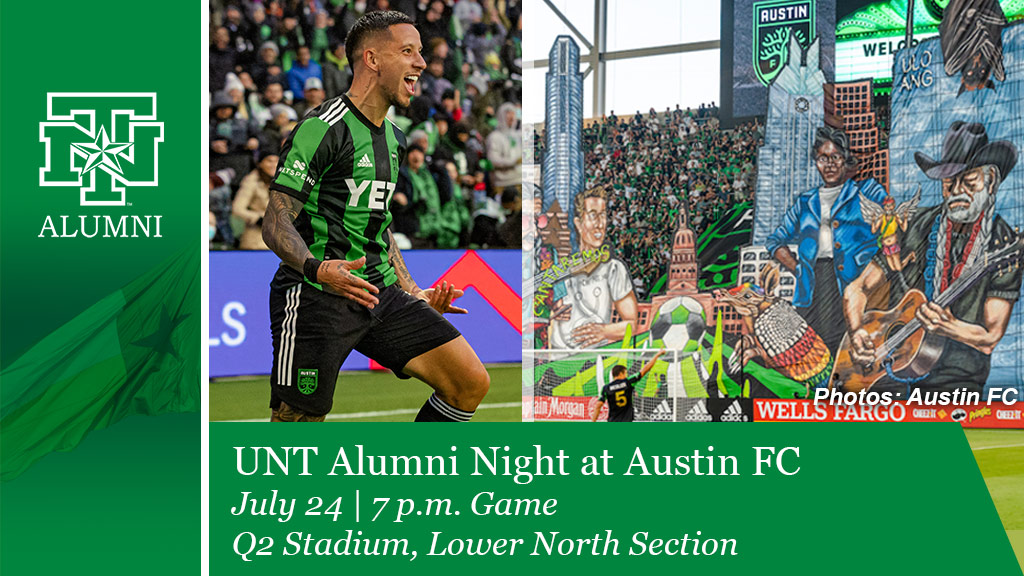 TICKETS SOLD OUT
The UNT alumni ticket block for this event has sold out! You can still buy tickets through the Austin FC website; tickets are available near the UNT alumni section (Lower North, sections 106 and 107) starting at $67.
Game Time
UNT Alumni Night at Austin FC
Sunday, July 24, 2022
Game time: 7 p.m.
If you purchased tickets through the UNT Alumni Association website, you will receive your tickets via email. If you have questions, please email Claudia.Taylor@unt.edu.
Pre-Game
Don't have a game ticket? You can still join us before the game! Meet up at Circle Brewing Co. for a cold drink on us and the chance to win some UNT and Austin FC prizes.
Circle Brewing Co.
2340 W. Braker Lane, Suite B
Austin, TX 78758
5 p.m.
Q2 Stadium Policies
Read the stadium's A-Z policy guide. Some important reminders:
NO bags are allowed, including clear bags; exceptions: clutch-size purses equal to or smaller than the size of your hand, medical bags, childcare/diaper bags only if a child is present.
Bag lockers are available at the Northwest and Southwest gates.
NO outside food or drinks; empty water bottles 30 ounces or smaller are allowed, and filling stations are available throughout the stadium.
Q2 Stadium is cashless.
Parking
Several parking options are available on game day. Please note that parking at the stadium is limited mostly to season ticket holders.
CapMetro: Learn about options for the Red Line train, bus routes and Park & Ride
Lyft: Park within several miles of the stadium and grab a Lyft using our game-day code (UNTAUSTINFC) for a $20 credit
To use the Lyft code on the day of the event:

Open the Lyft app and click on the three lines in the top left corner
Go to "Payment"
Click on "Add Lyft Pass"
Enter the code UNTAUSTINFC